Dog Training Services in Johnstown
We at Harvey's thrive on teaching Basic obedience so all dogs must show no fear or aggression towards people or other dogs.
Required for all classes; Up to date shot records, registration form and full payment prior to beginning the first day of class.
Minimum Class Sign Up: There is a 2 dog student requirement for each class.
Recent Graduates
Awesome combination of web development and adventurous lifestyle.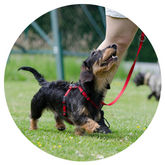 Beginner Training
Our obedience system is based on fun engagements that build focus. A great introductory class that teaches simple cues like sit, come and stay.

Behavior Modification
We use positive reinforcement to correct behavioral issues such as barking, digging, jumping up, biting, chewing and other dog and puppy problems.

House Breaking & Potty Training
Our professional trainers can train dogs to eliminate in litter trays, potty pads, or outdoors.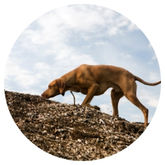 K9 Nose Work Training
Nose work is a great activity for dogs of any age. Engaging for both you and your dog, nose work training is fun and rewarding.

Puppy Training
Help your puppy to develop critical social and obedience skills, plus you can get all your important puppy questions answered!
Come visit our pet supply store in Johnstown, NY specializing in quality food, treats, and supplies for cats and dogs.